DJ Hell
Electric Indigo
visomat inc.


Random Noise Generation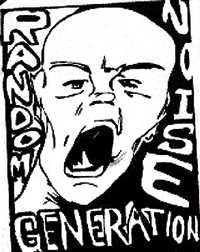 Random Noise Generation- 430 West (Live) "The Next Definition of DanceMusic"
What is Dance Music? Some say it is simply "sound that inspires motion". Reaching for that next step is the music of Random Noise Generation. R.N.G. is the sample twisting alter ego of Burden Brother Lenny. His use of machine altered vocals and instrumentation has reached around the world and helped to pioneer many modern styles of sampling.
Represented by the screaming man logo, Random Noise Generation swept the dance clubs of the world from its original conception. The debut dance anthem "Falling In Dub", rocked clubs all through Europe and was featured at Berlin's Love Parade. Originally released on 430 West Records in May of 1991, it was quickly picked up for simultaneous release in three separate countries: the U.K. by Outer Rhythm Records, Belgium by Buzz, and in Germany by Low Spirit where it was remixed by Claude Young, Terrence Parker, and the legendary Westbam. The sound of R.N.G. moves between straight up clubhouse tracks to deep hard techno, Random Noise Generation breaks down the bounders that we don't need, and leaves what we do, the funk. With over 30 tracks moving the globe, R.N.G. takes it right to the floor. "No matter what's going down," Lenny says, "it's gonna make you move."